With E-PasswordCard you can select and use secure passwords
Use E-PasswordCard to create your private password card
You can select a personal pattern and use the same for all your logins
Nobody else but you can have access to your passwords on your card.
It is very easy to use the E-PasswordCard
You automatically generate your personal password card for the first time you use the application.
Assuming you select "stairs" as your personal pattern and you need to generate a password for a website "doodle.com."
Step 1: Select the first alphabet of your password
The word "Doodle" begins with the letter "D" and has six alphabets: Go to "D6" on your password card and find the first letter of your password "W".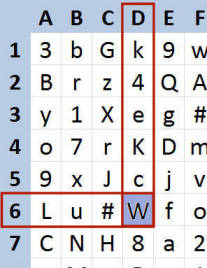 Step 2: Trace your password
Beginning with the letter "W", trace the password "Wfjvm8RwNx"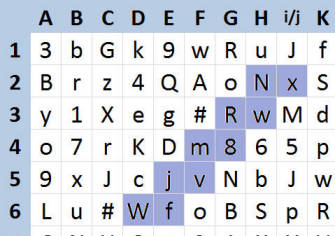 At any point you feel, you can easily opt out of using E-PasswordCard.